Body
The #ATRI system proposes an architectural methodology consistent with the social, economical and ecological dimensions of the project. #ATRI can work with types of different sites and different construction systems, but always with some conditions, such as: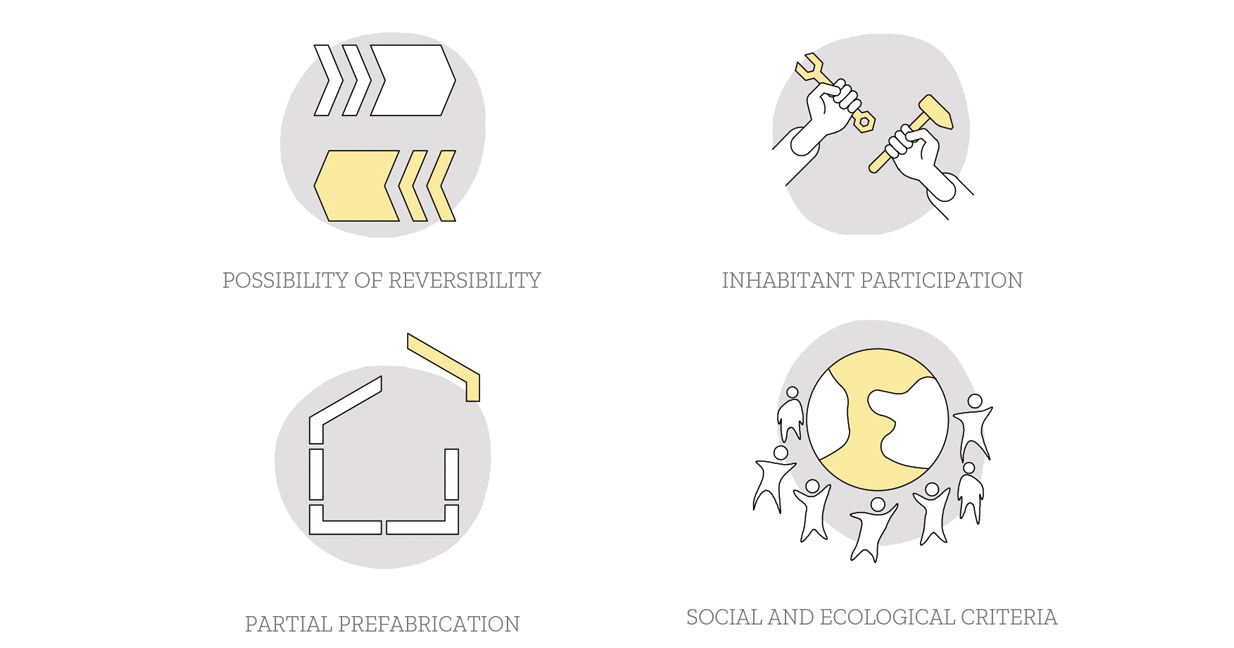 We observe that the construction sector drags with inertia practices and techniques more appropriate to past times than today. Nor is it very surprising, given the rootedness in the collective imagination that tends to associate quality with constructive massiveness and longevity. In the full age of carbon fiber and quantum computing, as a society we continue to believe that a building, especially if it is intended for housing, would have to be made of concrete or brick, and remain unchanged for generations.
Letting ourselves be brought by this cultural prejudice, as well as issues of cost, complexity, rigidity and durability, implies the assumption that the final destination of the house is demolition (or complete rehabilitation that is almost the same), an important waste of resources.
In the 21st century, when we deal with a city already built, but with serious structural problems, we will necessarily have to do it with new tools, more tactically surgical and economically circular, that adapt to the social, ecological and economic context using the technological advances within our reach. In terms of applying ecological criteria to architecture, the public administration has the opportunity, as a singular promoter, to lead the innovation landscape and to promote new and more responsible trends in the industry.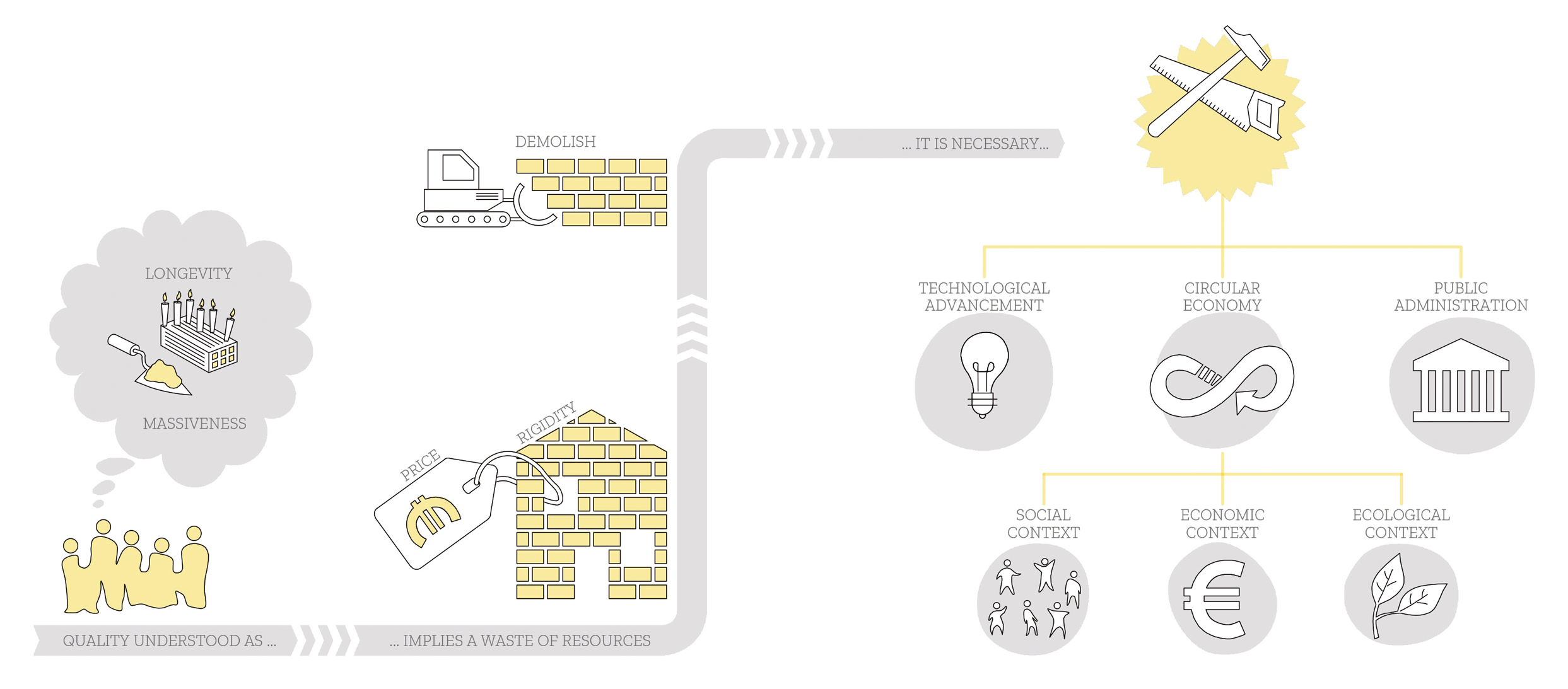 When, more specifically, we suffer from a housing emergency and population displacement that threatens irreversibility, which requires immediate action, it is logical that we try, opening the imagination, the most efficient solutions in all aspects, including the temporary.
These solutions have to incorporate the users at the center of the proposal, as an inalienable asset, without which all the strategy would lose its meaning.
The architecture of #ATRI, therefore, has to be inclusive, light, reversible, ecological, economic, fast, flexible and replicable.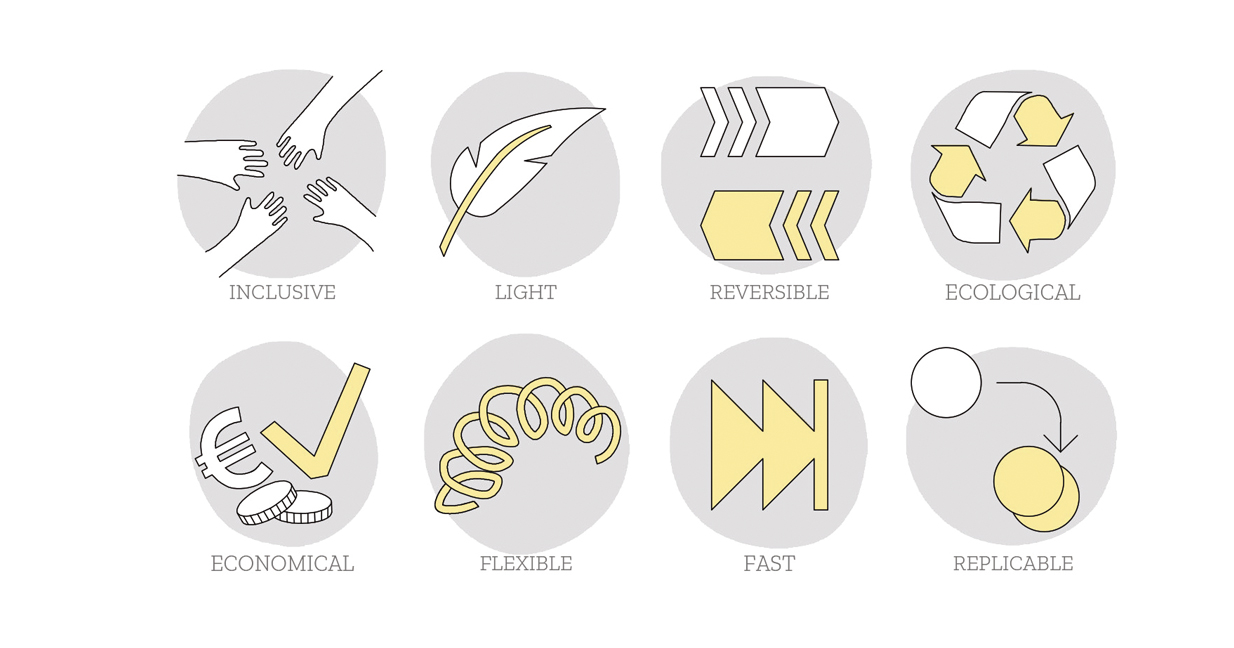 #ATRI proposes a process of ecological and socially responsible, starting with the active participation - to the extent possible - of the agents involved in different moments of the process of generation of housing, and a constructive protocol composed of four moments:

                  - Preparation of support and connections to services
                  - Modular industrialization with ecological criteria (black stage)
                  - The commissioning (gray stage)
                  - Assisted DIY (white stage)