Body
The purpose of the studies is to develop the line marked by the Pla de Barris to study urban opportunities and the legal, economic and architectural possibilities for the application of the ATRI project in the South Raval and South Gothic areas to propose operations that provide answers to the housing emergency situation.
The studies focus on the territorial framework of Pla de Barris (Raval from St. Carme to the sea and Gothic from St. Ferran to the sea). There will be a direct dialogue at all times with technical teams of the Pla de Barris and the District regarding the existing information.
The first step of the study was to detect the gaps of opportunity in these two areas to make an analysis as complete as possible of the possibilities that exist in the district.
This first take has been done with an immersive and creative look so as not to disregard any of the opportunity spaces that exist in the territory, which as we already know is a very compact fabric and with few urban corners without building.
From this first mapping, we proceed to a selection of the examples to study more in depth, which has been previously consulted and agreed with the technical teams of Pla de Barris and District of Ciutat Vella.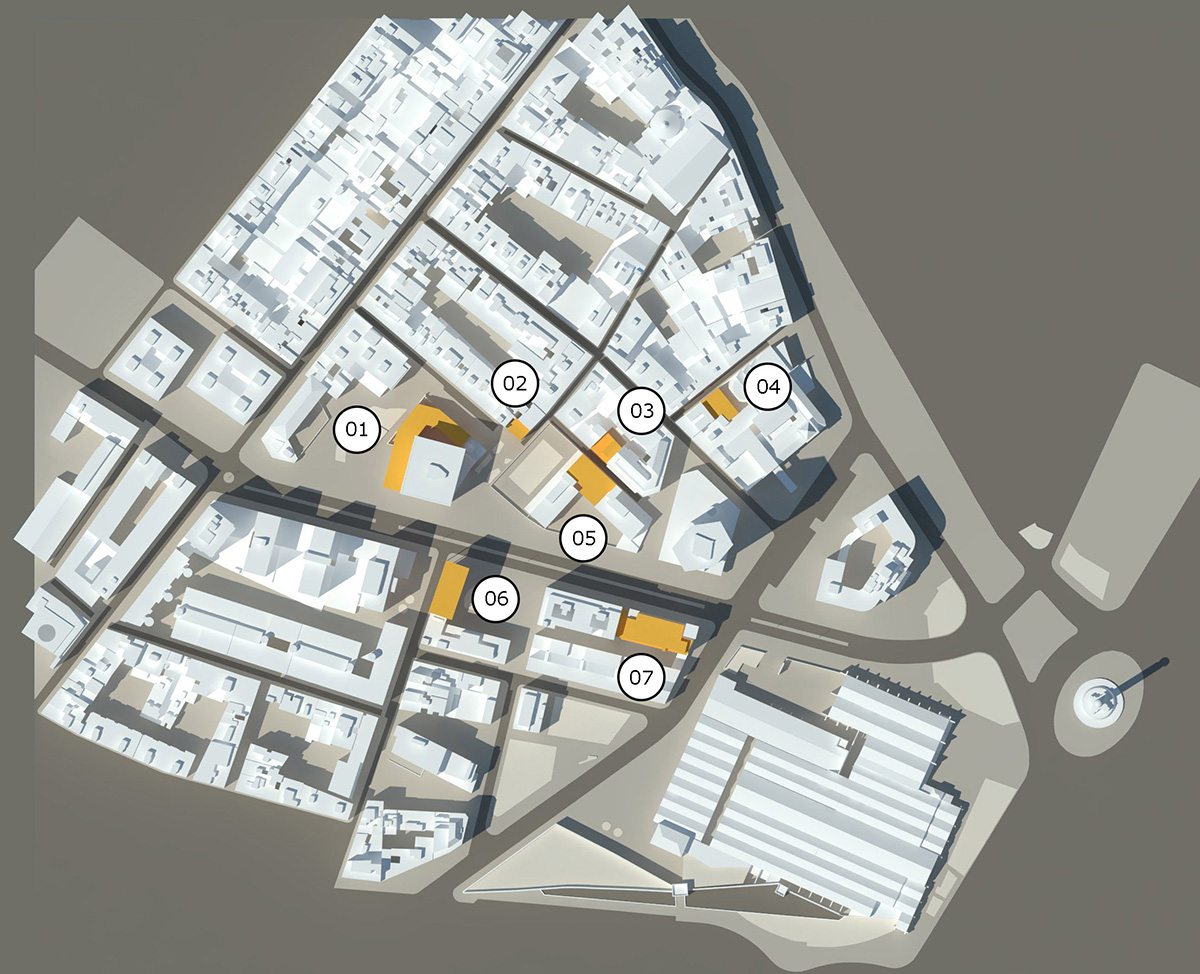 A series of opportunity cases were detected along Avenida Drassanes that met some of the characteristics to be able to host a project such as ATRI:
01- Official School of Languages
02- Street of Arc del Teatre 20B
03- Guttemberg Passage, 5
04- Santa Mònica Street, 4
05- Cesire Center
06- Pere Camps Health Center
07- Association of Rosa Sensat teachers
The conceived qualification of the apartment buildings as an area of ​​use and not as urban system, the power to take full advantage of the potential of the apartment buildings is exclusively held to the owner of the lots and, currently, this exercise of power is not limited in time. Given that legally it is not thought of as an urban obligation to exhaust the building potentials that planning gives to the built properties, but only the obligation to build in the unbuilt ones or to complete the unfinished buildings within a period, and provided that this is foreseen expressly urban planning.
Consequently, the only possibility of exhausting the buildability of the plots is, either giving a different zoning to the apartments, that allows the administration to use their vertical span for the purpose of creating public housing, or, maintaining the current zoning and acquire the building power that corresponds to the owner through its "surface" rights.